Hope and Tivon cover nanotech in the vaccinated vs. unvaccinated, the Hidden Pfizer Experiment on 44,000 military members that every American needs to know about, the Targeted Individual program and the Great Reset and the Nanotech Manhattan Project Timeline: Comparing Covid Events with Nanotech development and political moves by world governments over the last 30 years. Lots of disclosure in this one!
Watch the Presentation on Rumble here: https://rumble.com/v35rqa2-nanotech-plandemic-hope-and-tivon.html
CLICK HERE TO DOWNLOAD THE SLIDES FROM THE PRESENATION
Nanotech Plandemic Part 2 SGT Report
Summary
-Nanotech in the Vaxxed vs. Unvaxxed
-Hidden Pfizer Mengele Experiment on 44,000 US Military Men Women and Children: WHAT EVERY
AMERICAN NEEDS TO KNOW
– DARPA INSIDER: Nanotech and Mind Control
– Targeted Individual Program: Testing ground for what they plan to do the world population through the great reset
– The 20+ Year History of the development of mRNA Bioweapons by Darpa
– The Nanotech Manhattan Project Timeline: Comparing Covid events with tech development and political moves by world governments over the last 30+ Years
Our Book Forbidden Tech (referenced a lot in this presentation)
https://www.forbiddentech.website/
Check out our EMF Protection Products Here:
www.ftwproject.com
Our Alternative News Site where we post all our content:
HopeGirl Blog
www.hopegirlblog.com
COVID TRUTH EDUCATIONAL SERIES:
https://www.hopegirlblog.com/hope-and-tivon-full-reference-list-of-covid-research-and-presentations/
NANOTECH PLANDEMIC PART 1
https://www.ftwproject.com/orgonite-blog/nanotech-plandemic/
Notes from the show:
NANOTECH IN VAXXED VS. UNVAXXED
25 YEARS OF TRANSHUMANISM
Clifford Carnicom – Environmental Research Scientist and Founder of The Carnicom Institute and the Carnicom Foundation Disclosure Project
Carnicom Institute: https://carnicominstitute.org/
Carnicom Institute Disclosure Project Part 1 Overview with Clifford Carnicom (SkyWatchMap YT Channel)
https://www.youtube.com/watch?v=RbQ9feYX3Zc
Earlier presentations with Dr. Gwen Scott
https://www.youtube.com/watch?v=gI0H_nEypyQ&t=1843s
https://www.youtube.com/watch?v=bqt0dzAtBsU&t=188s
99 PAGES OF TOXIC INGREDIENTS FOUND IN COVID SHOTS
https://www.hopegirlblog.com/wp-content/uploads/2023/08/Dr.-Olree-Toxictiy-Report-on-Confidential-vax-victim-contents-of-shot-sample.docx
Stew Peters and Dr. Robert Seik Discuss Toxic Load in Vaxxed vs. Unvaxxed:
https://www.brighteon.com/58ef8f30-b4e9-49dd-9833-b7f5afd3f72d
THE PFIZER MENGELE EXPERIMENT ON 44,000 US MILITARY MEN WOMEN AND CHILDREN SPECIAL REPORT WITH TODD CALLENDER
In this smoking gun report, Todd Callender provides condemning evidence that tells the full story of how Pfizer experimented on 44,000 American military service men women and their children to test their COVID vaccine bioweapon and then hid the adverse reactions to obtain the Emergency use authorization needed to inject the entire US population.
Watch this special report here on Rumble:
https://rumble.com/v35gpla-the-pfizer-mengele-experiment-on-44000-us-military-men-women-and-children.html
Pfizer experimented on or did a biological weapons test for their slave or kill shots on 44,000 American military service members and their families, this included women and children.
These 44,000 Americans were injected with the experimental "Covid-19 Vaccine" as part of the 3 phase clinical trial that Pfizer then used to get Emergency Use Authorization to give these bioweapon injections to the rest of the American population.
This 4X worse than Dr. Mengele experiment on American men, women and children was documented in study C4591001 and a post market exam that Pfizer tried to hide and a federal judge ruled it must be released.
CLICK HERE TO VIEW THE PFIZER PHASE 3 CLINICAL TRIAL
https://www.hopegirlblog.com/wp-content/uploads/2023/08/BioNTech-EUA-BLA-C4591001-phase-1-2-3.pdf
The post market exam hidden by Pfizer shows an appendix of 1291 diseases that are caused by the shots.
According to military doctors, some of whom are qualified as Chemical, Biological and Radiological warfare experts, it would have taken years to prepare the tests in order to test for these 1291 diseases – many of which have never been seen before in the US and most of which have never been seen before by these doctors – in their entire careers. This is what they injected into everyone. It took years to prepare the tests for those diseases…
THEY KNEW BECAUSE THEY PLANNED IT AND THEY WERE TESTING THEIR WEAPON.
CLICK HERE TO VIEW THE CONFIDENTIAL PFIZER POST MARKET EXAM

After injection of the bioweapon into the 44,000 test victims, they used something called an "Intouch e-diary" which is an ePCR device that hooked up to an app on their cell phones. It measured the cellular changes in their bodies in real time and sent all of their bodies data to a data management company in Israel.
This company then laundered the data, erased all of the adverse reactions that the test victims were experiencing and sent a fake report back to the DOD and FDA to make it look like the clinical trial was safe and effective. This laundered fake report is what they used to get the emergency use authorization needed to inject the rest of the US population with this bioweapon.
CLICK HERE TO VIEW THE EMERGENCY USE AUTHORIZATION FOR PFIZER WITH TODD CALLENDERS NOTES
https://www.hopegirlblog.com/wp-content/uploads/2023/08/C4591001-DOD-population-EUA-Clinical_Protocol_Nov2020_Pfizer_BioNTech.pdf
When you compare the real data in the confidential post market exam showing the adverse reactions and diseases to the fake report given to the FDA and DOD along with the EAU you will see in the EAU precisely where they lied, committed fraud and covered up the adverse reactions, specifically what parts of the real data was omitted from the report given to the FDA and EAU.  Below are screen shot highlights of Todd Callenders notes on the EUA pointing this out. This was submitted as evidence in a court case by Todd Callender and the court refused to hear the case claiming a technicality of not having jurisdiction.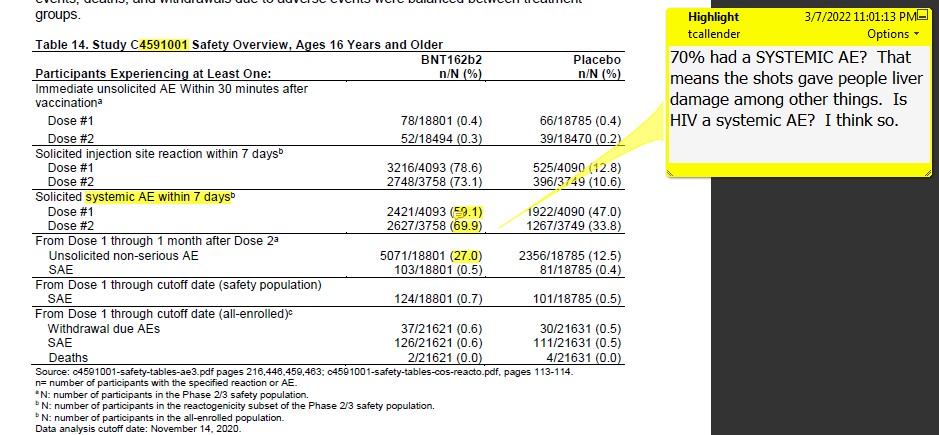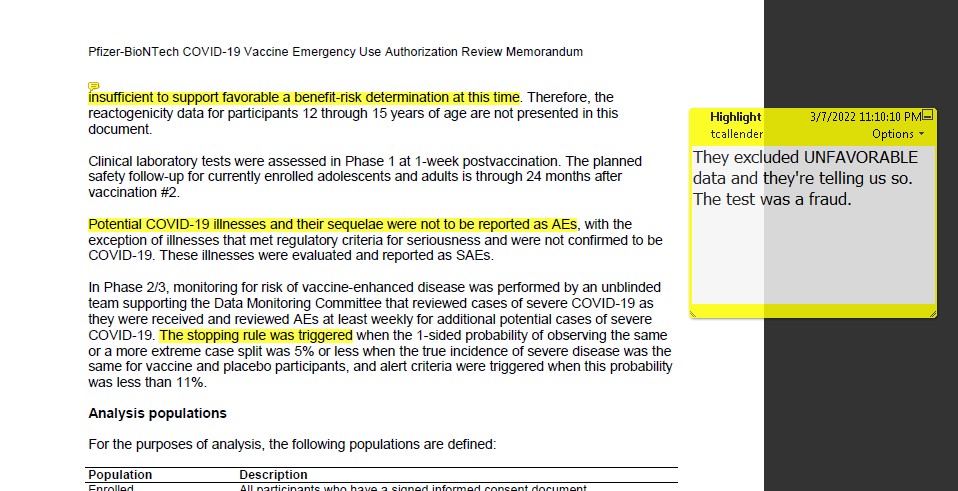 The ePCR devices used to read cellular structure changes in a persons body in real time were run on terahertz frequency nano-communication networks. This technology was communicating with the nanotechnology and graphene plasmonic antennas that are patented and put into the bioweapon shots to monitor what is happening inside of your body and also to initiate commands given to your body from an outside source.
WATCH OUR FULL EXPLANATION OF THE TECHNOLOGY USED HERE https://rumble.com/v30bdje-great-reset-technology-explained.-how-they-connect-humans-to-the-internet-t.html
All of this data was sent to the State of Israel, through a bio data collection company called ERT.
Israel is the cyber powerhouse of the world, its the REAL silicon valley.  It is the control center for all of this data for many western countries. It is also the power seat of the beast system and the synagogue of Satan.
Israeli Prime Minister Benjamin Netanyahu admits they are the testing lab for Pfizer and are creating a genetic database from peoples medical records.
ERT Company
https://www.prnewswire.com/news-releases/ert-and-bioclinica-close-merger-creating-the-global-leader-in-clinical-trial-endpoint-technology-301278439.html
ISRAEL GLOBAL CYBER POWERHOUSE
https://www.jns.org/how-israel-became-the-worlds-cyber-powerhouse/
ISRAEL BECOMES THE LAB FOR PFIZER TO CREATE GENETIC DATABASE
https://winepressnews.com/2023/01/16/israeli-pm-benjamin-netanyahu-admits-they-partnered-with-pfizer-to-create-genetic-database-from-medical-records/
"So Israel became, if you will, is the lab for Pfizer" – Benjamin Netanyahu
https://www.youtube.com/watch?v=ItpErus4pSM 
WHISTLEBLOWER DISCLOSURES FROM ACTIVE US MILITARY MEMBERS
These disclosures come from active US service members from all over the military whose names are withheld for their protection. This information was shared with us from Todd Callender, who sued the DOD and crafted the template for 210,000 servicemember plaintiffs in a class action suit regarding the mandatory COVID injections in the military. While working on this case, Todd disclosed his findings  of the case MOLECULAR PATHOLOGY V. MYRIAD GENETICS (2013 SUPREME COURT CASE)  which points to the gene modification plan the DOD has crafted to make super soldiers. Him mentioning this case caused many whistleblowers to share their knowledge of the super soldier programs. Below are several of their disclosures links to all PDF's on this blogpost.
DARPA HYDROGEL USE AS A 5G TRIGGERED WEAPON
https://www.hopegirlblog.com/wp-content/uploads/2023/08/DARPA-Hydrogel-Use-As-5G-Triggered-Bioweapon.pdf
DARPA MILITARY BEHIND NEW COVID VACCINES,
LIFE DEATH AND ALL IN BETWEEN
https://www.hopegirlblog.com/wp-content/uploads/2023/08/Darpa-Military-behind-new-covid-vaccines-–-Life-Death-and-all-between.pdf
DARPA GENETICALLY MODIFIED HUMANS FOR A SUPER SOLDIER ARMY
https://www.hopegirlblog.com/wp-content/uploads/2023/08/DARPA-Genetically-Modified-Humans-For-A-Super-Soldier-Army-The-Sleuth-Journal.pdf
DARPA VACCINE BIZ ADEPT VIGNETTE
https://www.hopegirlblog.com/wp-content/uploads/2023/08/Darpa-vaccine-biz-ADEPT-Vignette-FINAL.pdf
DARPA  INJECTABLE BRAIN CONTROL TECHNOLOGY
https://www.hopegirlblog.com/wp-content/uploads/2023/08/DARPA-Injectable-Brain-Control-2019.pdf
DARPA AND THE BRAIN INITIATIVE
https://www.hopegirlblog.com/wp-content/uploads/2023/08/DARPA-and-the-Brain-Initiative.pdf
Nanotech The Next Manhattan Project For the Great Reset
The next few slides show a timeline comparison of several key factors.  We believe this shows how they were waiting for the technology to get to a certain point and then they started lining up the legal structure to usurp constitutions of countries so that they could pull off Covid and get 5.55 Billion people injected with the technology that hooks them into the satellite grid of control.
SOURCE INFORMATION FOR TIMELINE:
DR DAVID MARTIN SPEECH TO EU AT COVID SUMMIT
https://www.bitchute.com/video/kd4D0oVdVLCx/
NANOTECH DEVELOPMENT TIMELINE
https://www.nano.gov/timeline
IAN AKYILDIZ DISCLOSURE ON TERAHERTZ
https://www.hopegirlblog.com/2023/06/27/darpa-graphene-plasmonic-nano-terahertz-antenna-covid-mrnas-nothing-more-than-bio-nano-machines-2/
LEGAL MOVES FROM GOVERNMENTS KATHERINE WATT
https://bailiwicknews.substack.com/p/legal-walls-of-the-covid-19-kill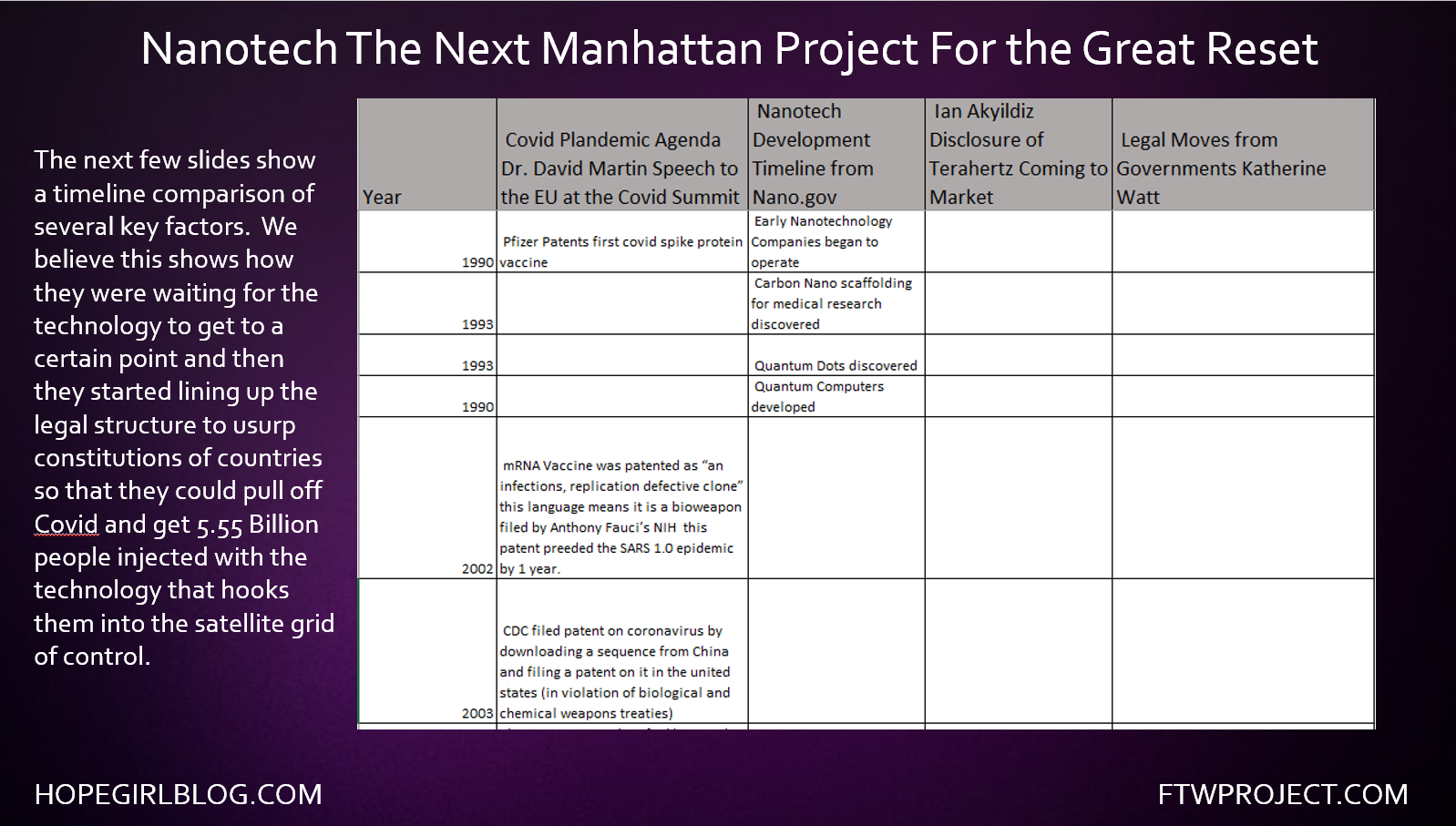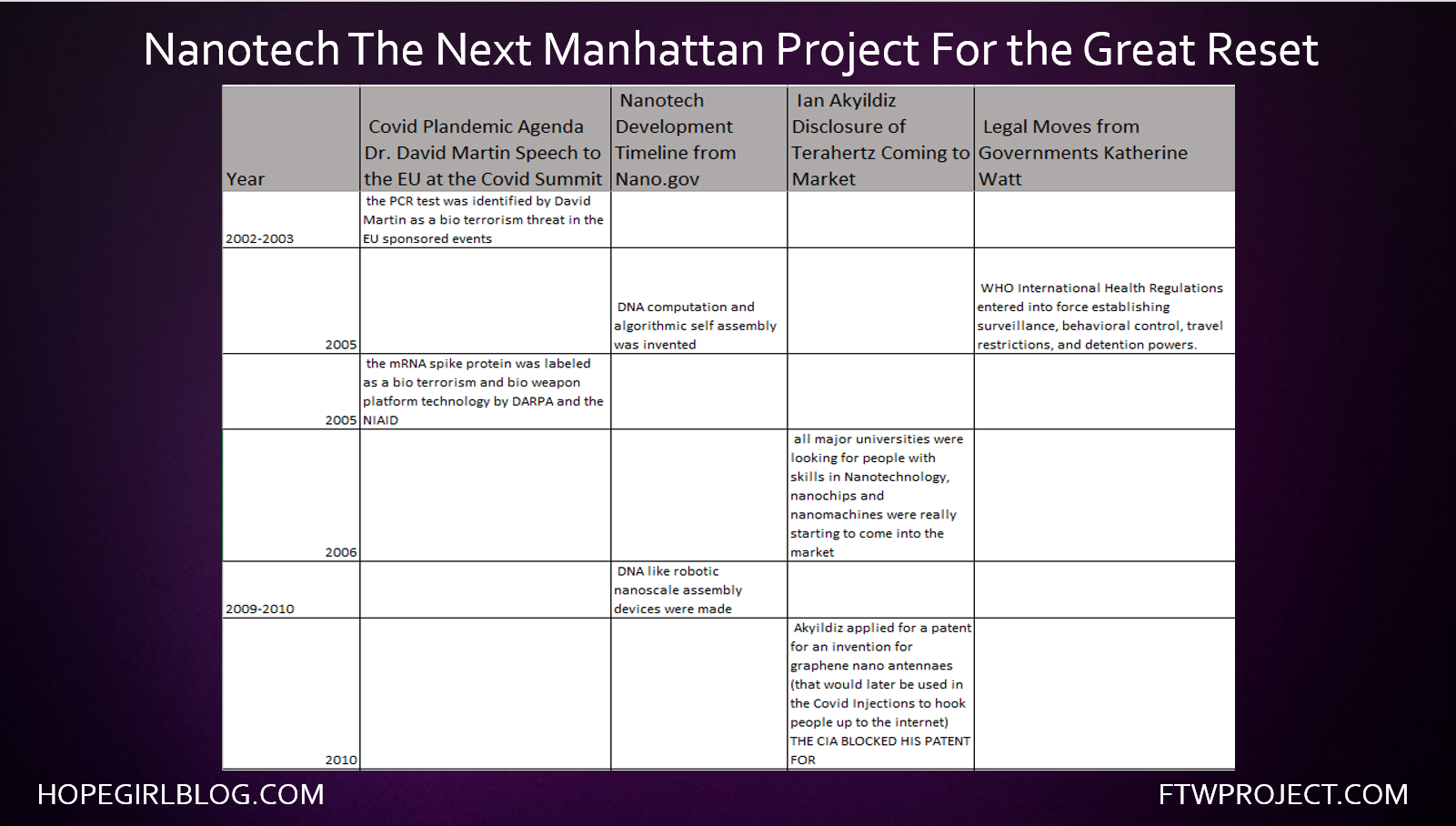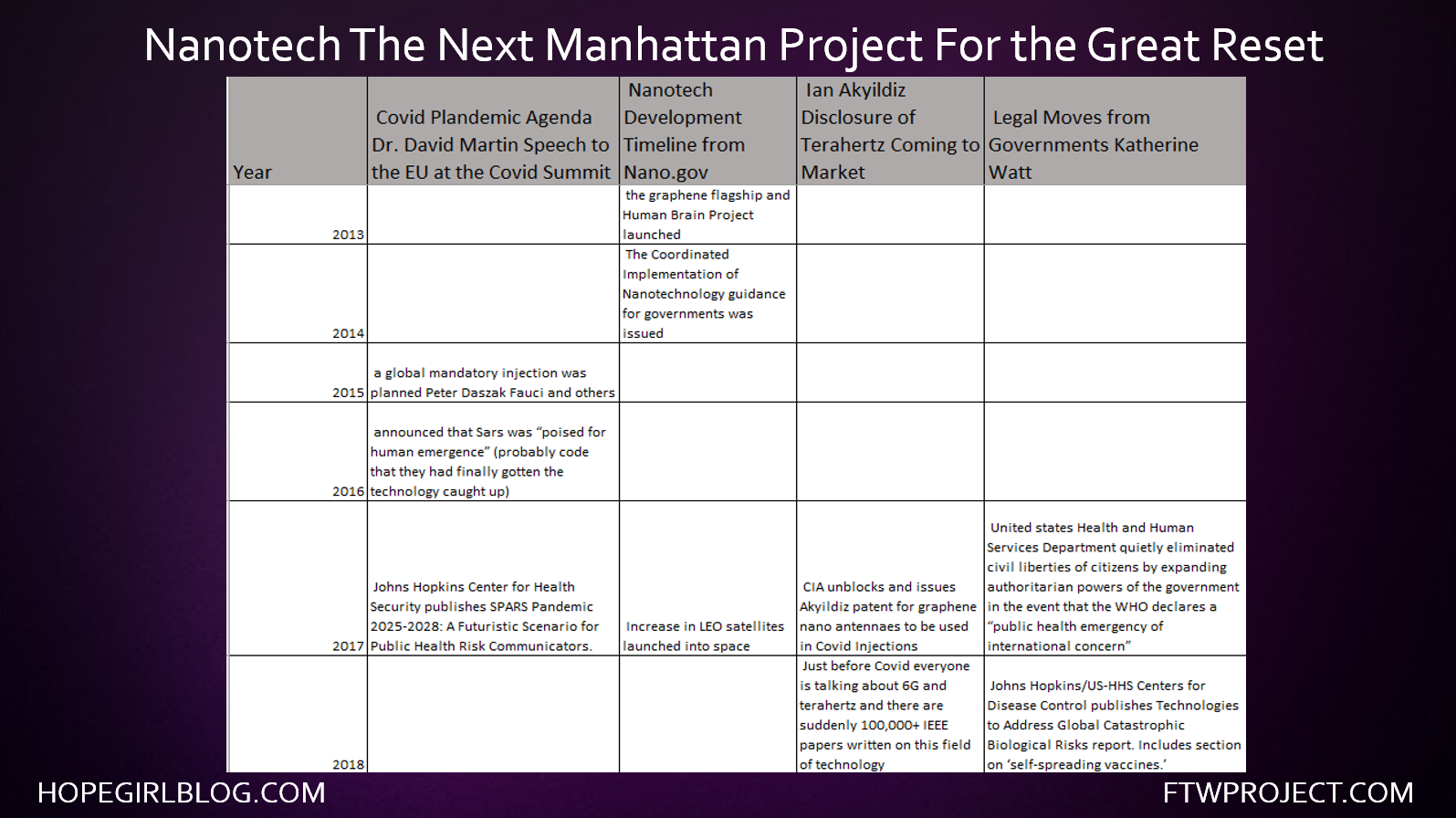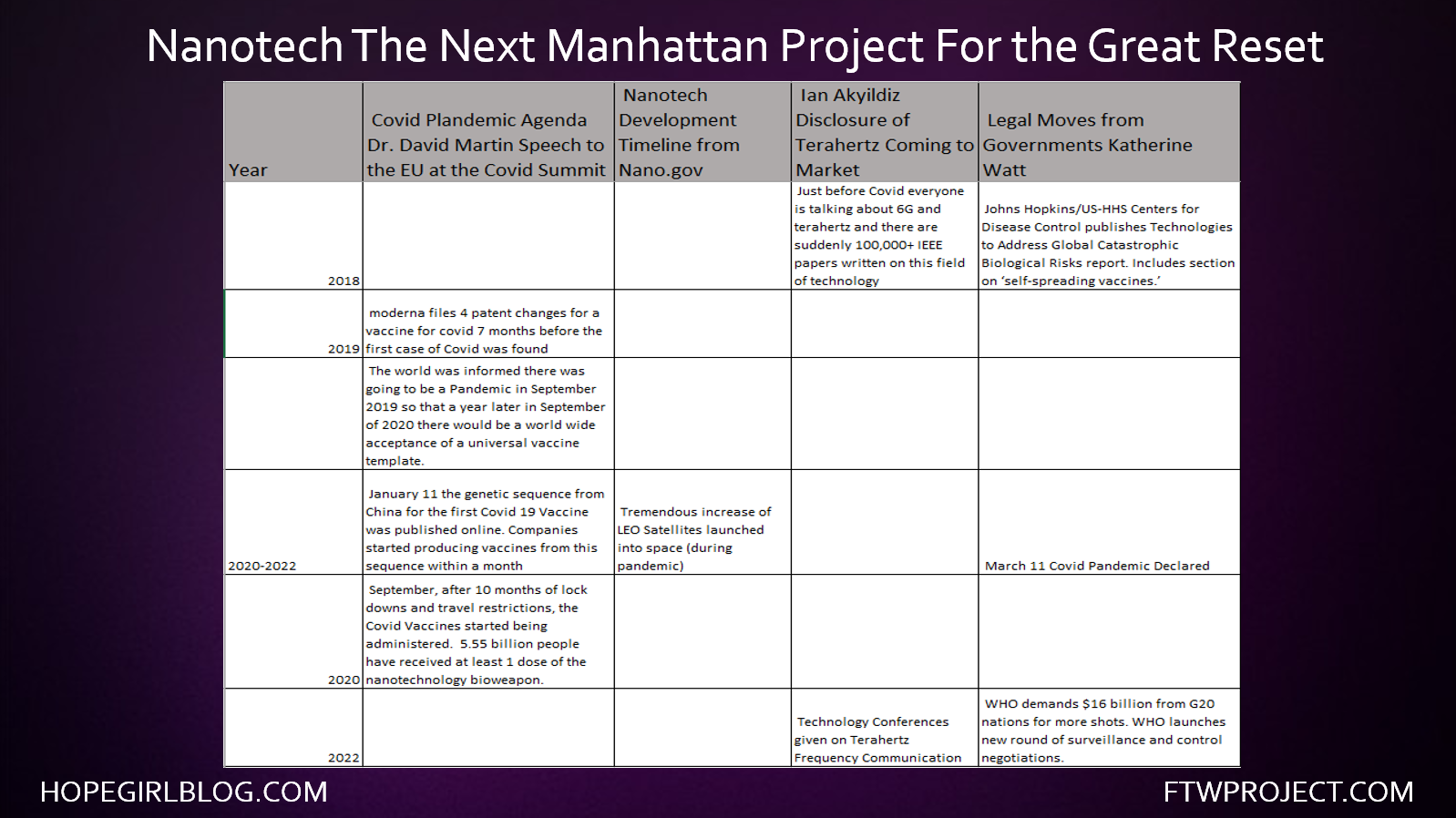 DARPA INSIDER
Dr. Robert Duncan is a Harvard University trained scientist and engineer who worked on black projects for DARPA, CIA, Justice Department and the Department of Defense. He was involved in artificial intelligence and cybernetics. As an MIT student he studied under professor Noam Chomsky on linguistics, studying computer AI language. During his career he became aware of the military's experimentation on targeting US civilian populations and soon realized he was part of creating a dangerous weapon if used for dark projects.
In this presentation, Titled "We are on the Verge of Cataclysmic Discover!" given in 2017 Dr. Duncan describes the many ways of mind control that have been achieved through the technology that he was developing.
Dr. Duncan speaks of speaks of magnetically activated nanoparticles used for brain sensing and control. All aspects of cognition can be controlled and interrogated. Human thoughts can be mapped out.  The nanoparticles are activated under certain magnetic frequencies and will alter the brain patterns and pathways.
Below is a magnified picture of a needle that's injected that is putting the scaffolding of the magnetically activated nanoparticles over the brain.
JOSEP JORNETS PRESENTATION TO THE UN
This presentation was called Ultrabroadband communication and networking solutions to unleash the terahertz band. It was presented by Ian Akyildiz and his colleague and former student Josep Jornet. It can be viewed here on Youtube: https://www.youtube.com/watch?v=ke6Rq5DKFn0
SMART DUST AND THE HUMAN SURVEILLANCE GRID
In this interview conducted by our mother Valerie Robitaille, Quinn Wright gives his testimony of being  a victim of the targeted individual program. He documents with video: energy weapons, smart dust, blue street lights and gangstalking targeted at him.
"One of the things that they would do to me is target my heart. I knew this because I have a frequency detector I would have turned on while I slept. I would wake up in pain around my heart in the middle of the night and the frequency detector would be beeping like crazy, so I knew there was some type of foreign frequency that was coming in and attacking my heart.  So I ordered orgonite from your family after seeing Tivon's Testimony on Youtube. One of the first things I used was the sleeping pod. I put it in my shirt pocket to protect my heart. Ever since using it all of my heart palpitations and pain I was having went away and its been a month and half since I started using it. I actually call this a heart pod instead of a sleeping pod because I use it to protect my heart.
As a targeted individual, you don't have anything to loose so its worth trying new things.
I also ordered their pyramids and even though they were more pricey than the smaller cheaper made pyramid I bought on ebay, I have to tell you that the quality means everything, you pay for what you get. These pyramids made a HUGE difference. I used to get what I call flash attacks during the day that were keeping me feeling sluggish, and I was feeling hopeless because the smaller orgonite pyramid that I bought from ebay wasn't really helping. But since I got these pyramids from your family the flash attacks totally stopped and this saved me at my lowest point. So I can testify that this really made a difference and the quality really matters"
WATCH THE INTERVIEW HERE:
Smart Dust and Human Surveillance. An Interview with Quinn Wright
DARPA VACCINES BIOWEAPONS PLANS
Sponsored by DARPA –the development of mRNA bioweapons -labeled as "vaccines"