In this presentation Hope and Tivon join Maria Zeee on the Stew Peters Network to discuss the advanced technologies that they are putting inside of humans without our knowledge through the Covid agenda. Covered are Bluetooth  technology basics from Tivon who is a network technician, proof that Bluetooth and EMF is being emitted from human bodies. Leans about how they are using biological technologies to track and trace humans and what you can do to fight back.
Watch the video here on Rumble: https://rumble.com/v23xf9m-uncensored-luciferase-to-go-into-the-forehead-or-right-hand-injected-people.html
Our EMF Protection Products Click Here:
https://www.ftwproject.com/ref/468/
Graphene Oxide Detox Protocol we recommend:
https://www.holistichealthonline.info/product/graphene-removal/
Heavy Metal Detox Protocol we recommend:
https://www.holistichealthonline.info/product/heavy-metals-herbal-detox/
Check Out our Book "Forbidden Tech: The complete guide to energy, social, and biological technologies that they did not want you to know about."  Here:
https://www.forbiddentech.website/
Get the slides from the presentation here:
Maria Zee Blue Tooth Presentation December 23 2022
Summary:
Why most people don't want to talk about the technology used in the COVID agenda.
Blue tooth technology basics
Evidence and Tests showing MAC addresses and EMF Emitted from Humans
How to scan for Bluetooth codes
Ingredients found in Vaccine are just like computer components
Microscope Army, Tests Done on Injection Components with EMF
Evidence they are already scanning human bodies for proof of injection
How they track and trace humans using biological technologies
White fibrous structures found by embalmers growing in vaccinated deceased
Fractal Antennae
Efforts underway to find a solution: Equipment needed
How to fight back against the technology
Reference Links from show:
A French research team stopped random volunteers in a park. Separated them into groups of vaccinated and non-vaccinated. They were then tested with their laptops Bluetooth and the vaccinated were registering an unnamed mac address as each were called near from the field.
FRENCH TESTING – VACCINATED PEOPLE EMIT SIGNALS
Bluetooth Challenge Videos
Normally Bluetooth devices have a name on them. But now when you go into a crowded room full of vaccinated people all of these anonymous Bluetooth addresses show up on your phone. Bluetooth challenge videos are popping up everywhere.
If you are interested in other 'Bluetooth Challenge' videos where COVID Vaccinated people are each registering with their own Mac Codes, check these out:
– https://www.bitchute.com/video/ckVnUH0J53bk/
– https://www.bitchute.com/video/zZyNCMKZol3F/
– https://www.bitchute.com/video/vcA3uW0XuyNI/
– https://www.bitchute.com/video/w0mf8vu6gUjU/
– https://www.bitchute.com/video/TZG23ll8HsJw/
– https://www.bitchute.com/video/yCxOTGxJQ6Sk/
BLUETOOTH FROM THE GRAVE
A research team in Mexico headed by Dr. Pedro Chavez Zavala has been conducting studies on the Bluetooth codes emitted from people who received the Covid vaccine. They made a documentary (in Spanish) called "BlueTruth".  In the documentary Dr. Pedro brings his equipment and reveals that Bluetooth codes are being emitted from the graves of the vaccinated deceased.
https://www.comusav.com/2022-05-14-bluetruth/
La Quinta Columna has shared a summary of the intra-body nano-network that forms after each inoculation the population receives. The author of this summary is Mik Andersen, owner of the research blog Corona2Inspect, who's a renowned scientist who has chosen to collaborate with La Quinta Columna and Dr. Pablo Campra's research under a pseudonym.
Intra-body nano-network – Brief summary by Mik Andersen.pdf
https://www.docdroid.net/tvx0R9b/intra-body-nano-network-brief-summary-by-mik-andersen-pdf
This diagram shows all the components that are introduced with each inoculation.
https://www.orwell.city/2021/12/nano-network.html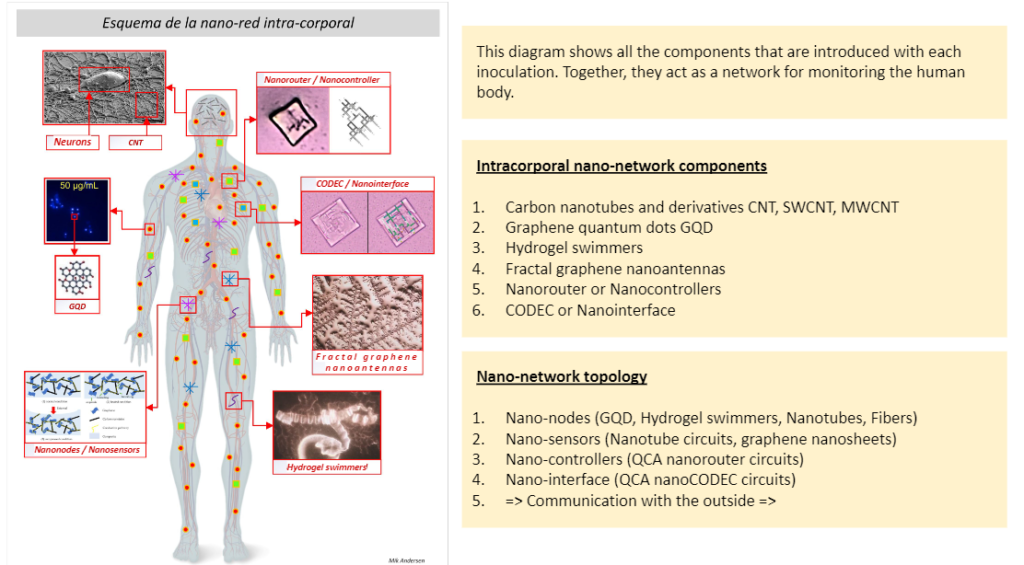 CIRCUIT EXPERIMENTS FOR REMOVAL OF NANOTECHNOLOGY FROM THE COVID VACCINES
 In the video shared by La Quinta Columna a person who has taken the injection is in a field and is emitting a Bluetooth code that can be seen on the mobile phone. The two operators then use the pulse emp circuit over the injection site in both arms of the person emitting the signal. After a minute of use, the operators were not able to get a Bluetooth signal from the injected person. The chip was disabled. This  was a painless procedure. They just simply waved the coil over the vaccination site and it deactivated the chip. https://vimeo.com/729849925/2b6fc7ff89?embedded=true&source=video_title&owner=18963370
THE BLUETOOTH CHALLENGE EXPLAINED. WHY COVID VAXXED PEOPLE ARE EMITTING BLUETOOTH CODES AND HOW YOU CAN SEE IT FOR YOURSELF.
https://www.hopegirlblog.com/2022/03/27/the-bluetooth-challenge-explained-why-covid-vaxxed-people-are-emitting-bluetooth-codes-and-how-you-can-see-it-for-yourself
SPECIAL REPORT: NANOTECH IN COVID JABS, PCR, MASKS ACTIVATED BY EMF – MATT TAYLOR
https://www.hopegirlblog.com/2022/11/27/special-report-nanotech-in-covid-jabs-pcr-masks-activated-by-emf-matt-taylor/ 
In this special report, two Engineers Matt Taylor and Tivon Rivers discuss the nanotech that has been found in the Covid jabs, PCR, and Masks. Using high quality microscope imagery so you can see with your own eyes: self assembling nanotech activated by EMF, the vaccine liquid killing blood cells on contact, nanotech fibers purposefully inserted into the masks and test swabs during manufacturing with the intention of being deposited into the human body and more.
FIBROUS CLOTS AND TECHNOLOGY ARE THE CONNECTED? SPECIAL REPORT WITH HOPE AND TIVON AND DR. JANE RUBY
Fibrous Clots and Technology Are The Connected? Special Report with Hope and Tivon and Dr. Jane Ruby
In this special report Hope and Tivon of FTWProject.com interview Dr. Jane Ruby. This is a conversation between a medical professional and a technology professional and finally bridges the two respective fields when it comes to what is happening to humanity from the Covid injections.  We ask Dr. Jane Ruby if the white fibrous structures found by embalmers in the vaccinated deceased around the world could have been made by and from the nanotechnology in the shots. And we mention how so few doctors are willing to talk about the technological aspects of the Covid agenda such as 5G, EMF and graphene oxide. This is a groundbreaking high level discussion that is packed with clues to help us in our fight to stop the destruction being done to humanity through the Covid agenda.
WORLD FIRST: ROBOTIC ARMS ASSEMBLING VIA NANOTECH INSIDE COVID-19 "VACCINES" – FILMED IN REAL TIME – DR. NIXON
https://www.hopegirlblog.com/2022/10/28/world-first-robotic-arms-assembling-via-nanotech-inside-covid-19-vaccines-filmed-in-real-time-dr-nixon/

Dr. David Nixon joins us to reveal footage NEVER before seen anywhere in the world – real time footage of the nanotechnology inside the COVID-19 injections assembling robotic arms that guide the nanotechnology development.
SPECIAL REPORT: HUMAN BODIES SCANNED AT AIRPORTS FOR LUCIFERASE PROOF OF VACCINATION
Special Report: Human Bodies Scanned At Airports For Luciferase Proof of Vaccination
Breaking news: they are scanning peoples bodies for visible luciferase proof of vaccinations at airports.  If you are caught with a Fake Vaccine Pass, you are fined and not allowed to board your connecting flight home until you are force vaccinated at the airport.