Historian and author Paul Gromosiak once said that winter at Niagara Falls can be so breathtaking that it "diminishes even those skyscrapers" on the other side of the border in Canada.
Trees once thick with fall leaves as they framed the cascading falls are mere frozen branches covered in pristine white snow. In Gromosiak's words 13 years ago, the trees are "bowing to the river, with the weight of the ice on their branches".
Icicles hanging like stalactites have formed on rocks, walls and railings surrounding the falls. The water is icy but still descending swiftly onto the river below it in a thick cloud of mist.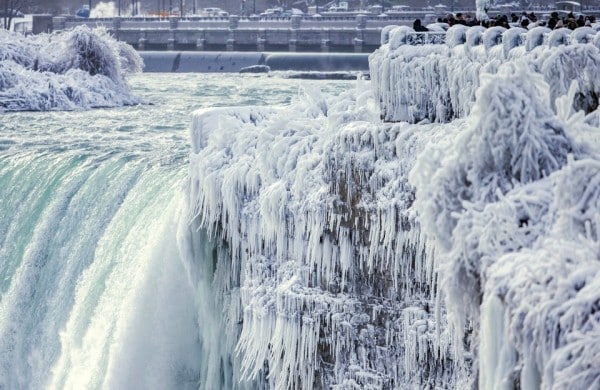 (Aaron Lynett/The Canadian Press/AP)
Such is the winter-wonderland sight that tourists, cameras in hand, are braving the frigid winter to see. Though known for its hundreds of acres of lush terrain and trails conducive to hiking, Niagara Falls State Park, just outside Buffalo, boasts equally stunning views even as temperatures drop and crowds thin.
"I came here in the summertime four years ago," Zieong Zang, who made the seven-hour drive from Jersey City, told the Buffalo News. "It was good, but it wasn't like this. This is just outstanding, with all the snow and the trees coated like sugar."
Some say the photos don't do the beauty justice, but here are a few examples, taken by Buffalo News photographer Sharon Cantillon: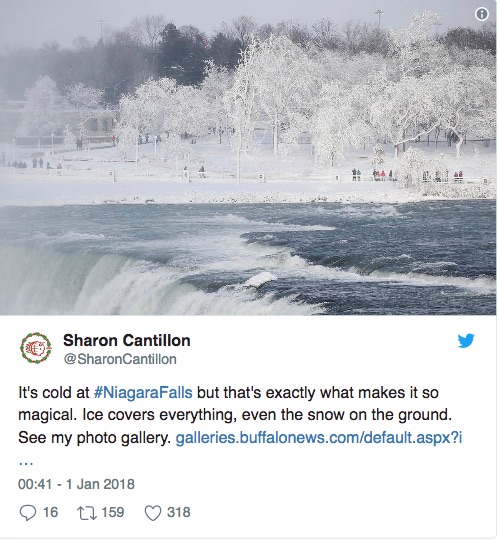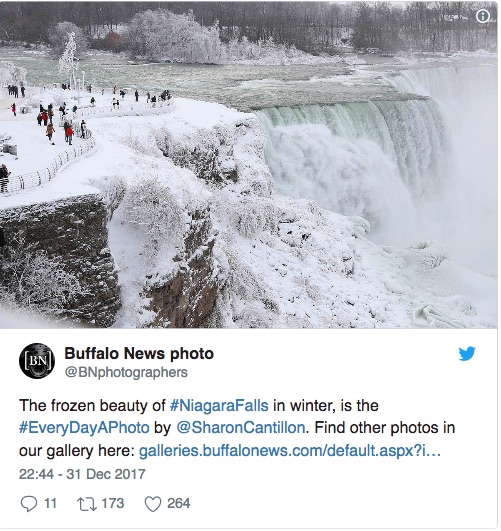 And here are a few more, taken from the Canadian side: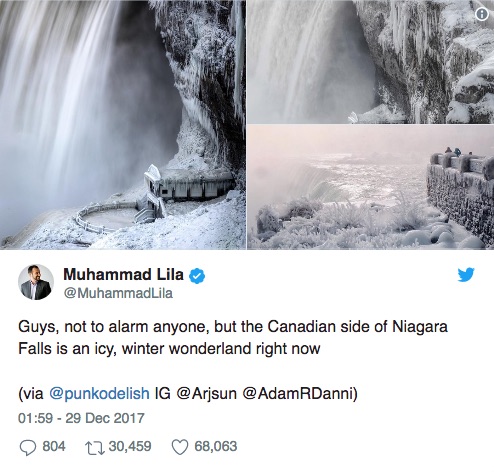 In 2014, pictures purporting to show frozen-solid falls circulated online. But as The Washington Post's Caitlin Dewey, who is from Niagara Falls, noted, these are "either totally misleading or outright false." Many of the photos, as BuzzFeed News reported, were old ones.
More than 3,000 tons of water flows over Niagara Falls every second. Hundreds of thousands of gallons fall over each of the three falls that make up Niagara Falls.
"It would take a lot more than a few days of cold weather to completely shut that off," Dewey wrote.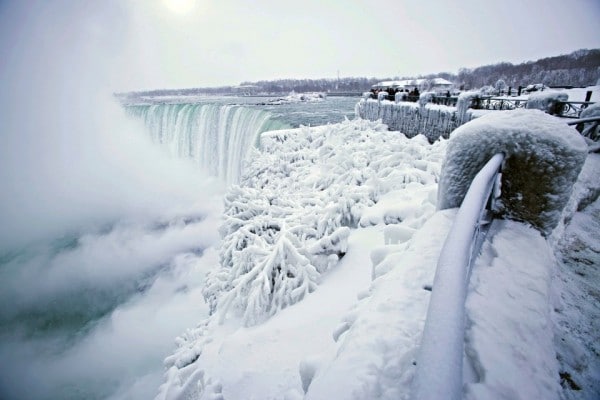 (Aaron Lynett/The Canadian Press, via AP)
Still, the ice over the Niagara River at the base of the falls sometimes gets so thick that people had been known to build concession stands across it or walk over to Canada.
But in 1912, when about three dozen people were standing on what had been called the ice bridge, a large piece of ice fell over and caused the bridge to crack.
Three people, including a married couple, were swept to their deaths, and their bodies were never found. Walking over the ice bridge is no longer allowed.
Snow is expected throughout the week, with temperatures hovering between 8 degrees and 21 degrees Fahrenheit (-13 to -6 degrees Celcius), according to the National Weather Service.
Wind chills would bring temperatures to below zero degrees.
For the rest of this article please go to source link below.
(Source: sciencealert.com; January 1, 2018; https://tinyurl.com/ycblm7ge)