(Although we met our budget goal in one minute after the campaign went live thanks to one incredibly generous donor, the first 500 people to make a $1 donation for the filming of "Angels In Boston" will be included in the credits of the film. Thank you so much for your love and support.)
Summary
The HopeGirl/Fix The World (FTW) team sees the recent tragedy in Boston as an omen. We have been planning the Boston filming of our documentary for 3 months, and gratefully acknowledge this opportunity to bring love and healing to the area. We envision Angels in Boston, hence the name of our first film!
Our primary purpose for making this documentary consists of telling the stories of the people whose new and innovative ideas, as well as compassionate acts, have been suppressed, and the efforts by the elite to dominate humanity. Their actions over many decades have devastated millions of individuals, families and communities.
Our ultimate goal is to provide tools for building the bridge to get from an old paradigm of corruption, to a new paradigm that we call humanity's Golden Age. As ambassadors for Earth and improved quality of life for its inhabitants, we believe our part is to help individuals and communities heal through their very real stories, and distributing the movie to the public at no charge.
Due to its energy and purpose, Angels in Boston will be produced with the intention of bringing healing and love to the world in general, but Boston in particular. We are Bostonians and love Boston! Whatever we can do to bring light and truth to our hometown is what we will do! We will be including interviews from people affected by the bombing on April 15, 2013.
Background
On September 10th 2012, HopeGirl (Naima Feagin) launched a blog and sent out a call for global participation/submissions on how to fix the world. She posed specific questions to harvest solutions for the very real problems in our world, and approximately 300 people from 37 countries responded, contributing their knowledge, ideas, opinions and heartfelt aspirations. (Please see WHILE YOU WERE ASLEEP… for more information.
Positive Impact
Because we see more and more people waking up to the effects of elitist activities, we will focus on their control of economies, media, education, healthcare, food supply, etc., and present the solutions from our great work 'How To Fix The World' by the HopeGirl/FTW team and 285 inhabitants of Earth!
How To Fix The World Guidebook includes:
•A wide range of solutions that can be implemented on both local and global levels.
•The wisdom of the crowd sections, helping to bridge the disconnect between the people and their leaders
•Critical and creative processes to come up with solutions to our problems
•Identification of the resources/projects/individuals that have talents, knowledge and skills, and are ready and available to execute much needed changes on local and global levels
•Immediate actions necessary to stop the destruction of our world and societies
The HopeGirl/FTW team has been working tirelessy for many months setting up the elements of a new paradigm organization. Please visit our website to see the awesome community members and projects that have come to FTW. We have operated solely on donations and volunteers thus far, and depend on crowdfunding to manifest the solutions (new energy technologies, alternative healing methods, etc.) that are being suppressed.
We began our movie crowdfunding campaign in February 2013 (see it here). While we did not raise the funds needed for the old budget, we got really creative to be able to do the movie in other ways. Funds already raised have been used to fly the HopeGirl/FTW team to Boston for the filming (coming from as far as New Zealand!) Below is a supplemental (new) budget and we have new perks as well! The team are commited to making this movie for the world and hope you can help. Anyone making any contribution of any amount will, with your permission, be listed in the credits of the film.
New Budget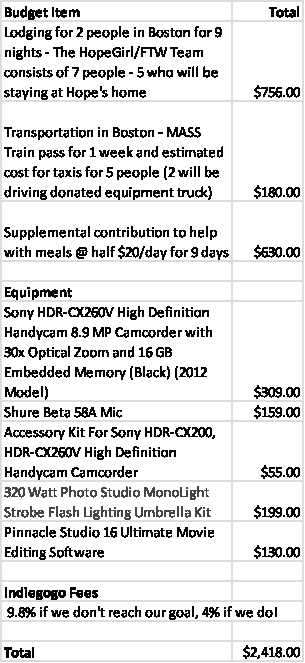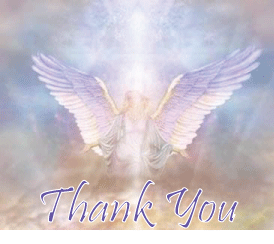 WHY WE WANT TO FIX THE WORLD