President Biden's IRS Commissioner Daniel Werfel has armed agents in the agency's criminal investigations division as gun-wielding tax enforces. Agents must perform routine firearm training exercises to understand basic safety protocols, including proper gun handling, muzzle awareness, and trigger discipline.
On Thursday, one IRS agent was "accidentally shot by another IRS agent during a training exercise" at a federal gun range in Phoenix, Arizona, according to local media AZ Family.
Charlotte M. Dennis with the Phoenix Field Office of the IRS Criminal Investigation Division confirmed the incident involving one of its special agents. She said the agent was transported to HonorHealth Deer Valley Medical Center, where the agent died.
FBI's Phoenix field office is now investigating the shooting. "The FBI's investigation will be methodical and thorough in addressing every element of the incident," an email statement from the agency read. Those findings will be handed over to the US Attorney's Office (District of Arizona) for review.
IRS AGENT SHOT: Sources tell us an IRS agent was shot and killed by another agent during a training exercise. Those same sources say this was "accidental". The FBI is taking over the investigation.

According to the IRS, special agents are the only IRS personnel who carry guns… pic.twitter.com/x0Csa4J8NI

— Ashley Holden (@ashleyvholden) August 18, 2023
The agent involved in Thursday's shooting was part of the IRS Criminal Investigation (IRS-CI) unit that investigates tax violations, including potential tax crimes, money laundering, and bank secrecy act violations.
We have detailed how the "IRS Chief Reveals Hiring Plan For Armed Agents" as it's flushed with $80 billion in new funding provided by the Democrats' Inflation Reduction Act.
In June, armed IRS agents conducted a "Soviet-style intimidation raid" of a gun store in Great Falls, Montana. We suspect there will be many more IRS raids under the Biden administration.
Since AZ Family said the IRS agent was "accidentally" shot, we suspect this was due to a lack of firearms safety or a gun misfire.
The internet went wild last month when the Bureau of Alcohol, Tobacco, Firearms, and Explosives (ATF) posted an image of an agent loading a submachine gun magazine with the barrel pointed at his testicles.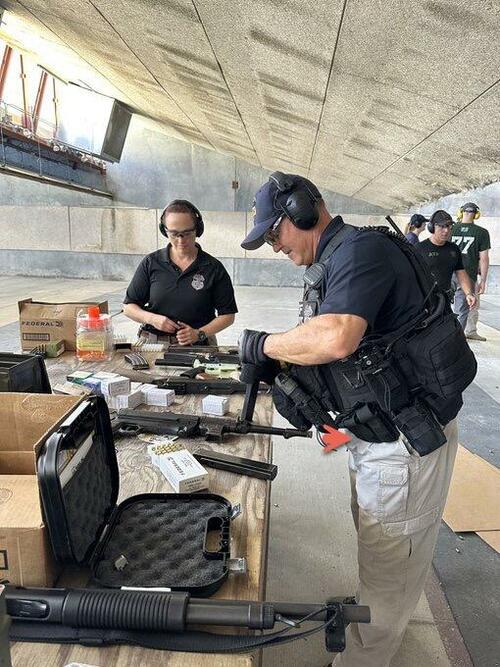 Even though some said the firearm was not loaded, those who argue that have zero understanding of firearm safety. As a refresher, "Always treat every firearm as if it is loaded." 
While the Biden administration is actively trying to punish law-abiding citizens for owning guns and impose backdoor gun control, the federal government appears to be ramping up its ability to arm agents throughout many agencies. Perhaps these folks need more firearm training classes.
Source Link:  https://www.zerohedge.com/political/irs-agent-accidentally-killed-training-exercise
Bitchute: https://www.bitchute.com/channel/YBM3rvf5ydDM/
Telegram: https://t.me/Hopegirl587
EMF Protection Products: www.ftwproject.com
QEG Clean Energy Academy: www.cleanenergyacademy.com
Forbidden Tech Book: www.forbiddentech.website