The Wall Street Journal and other Main Stream Publications have been going after several Youtube channels and alternative news platforms informing them that they are going to write hit pieces on them for sharing truthful information about the coronavirus Covid19.
Last week my mother Valerie Robitaille had a fantastic interview with Sean on the SGT report where she discussed amongst other things, how to protect yourself against the coronavirus Covid19. Valerie is a Holistic Nutritionist with degrees in Community Health and Biology and is currently working on her PhD.  Her information given in this interview was top notch and incredibly valuable to help those who are concerned about the coronavirus Covid19. Only two days after the interview was posted (and had reached over 90,000 views) Sean had to make the interview private as a precaution against censorship. The reason for this is because he received a letter from a "reporter" from the Wall Street Journal informing Sean that he was writing a hit piece on him due to his coverage of the coronavirus.  Here is a screen shot of the letter from the WSJ reporter:

Here is the text of the email in case there are problems with the image:
Hello,
I am a reporter at The Wall Street. Journal. I'm writing about misinformation related to the coronavirus that is proliferating online. Part of what I plan to highlight is SGTReport publishing YouTube videos that, among other things, circulate unproven claims such as that the virus is an "engineered pandemic."
Looking for comment on this from SGTReport. Would appreciate a quick response. Thank you.
Sebastian Herrera
Reporter San Francisco Bureau
The Wall Street Journal
Sean published a video showing his response to the reporter (which I thought was fantastic!) you can see that image here: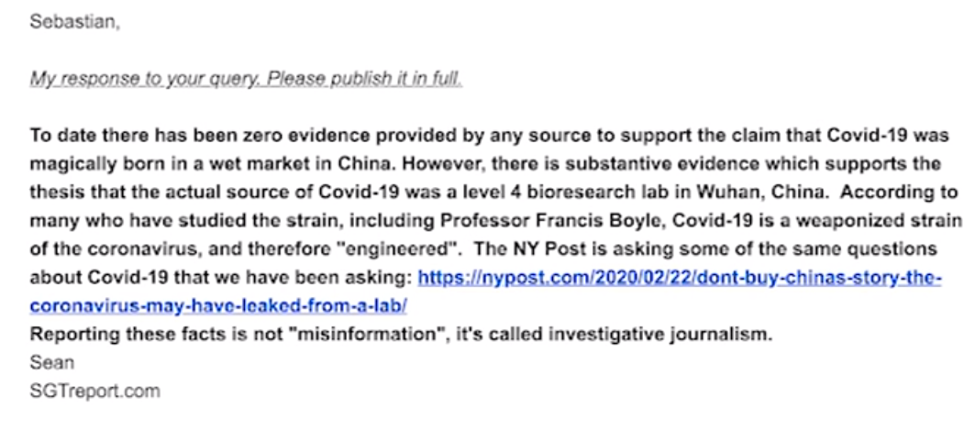 And here is his response in text format with a clickable link to the NYPost article:
Sebastian,
My response to your query. Please publish it in full.
To date there has been zero evidence provided by any source to support the claim that Covid-19 was magically born in a wet market in China. However, there is substantive evidence which supports the thesis that the actual source of Covid-19 was a level 4 bioresearch lab in Wuhan, China.  According to many who have studied the strain, including Professor Francis Boyle, Covid-19 is a weaponized strain of the coronavirus, and therefore "engineered".  The NY Post is asking some of the same questions about Covid-19 that we have been asking: https://nypost.com/2020/02/22/dont-buy-chinas-story-the-coronavirus-may-have-leaked-from-a-lab/ 
Reporting these facts is not "misinformation", it's called investigative journalism. 
Sean
SGTreport.com
The hit piece written by the WSJ was published, but you have to pay for a subscription in order to read it online. (one of the reasons our family stopped reading the WSJ many years ago) here is a link to the hit piece: https://www.wsj.com/articles/coronavirus-misinformation-lives-online-despite-efforts-to-stamp-it-out-11583272556#comments_sector  Sean told his Patrons that he refused to publish the link to the WSJ article because he didn't want to send them the traffic.
Since they didn't have anything on SGT Report, the article focused mainly on Mike Adams, who takes more heat than almost anyone.  Mike Adams of Natural News was de-platformed from Google and Youtube he then invested millions of dollars in the creation of his own video platform called Brighteon. (of which we have a channel on and ironically mirrored the interview with Valerie before Sean had to make it private on Youtube)
In one of his videos Mike Adams mentioned the best way to defeat this virus is to get "anti-virals" into the hands of everyone in the country. These are natural remedies that can kill this virus and stop the spread of this pandemic. However, this will probably never happen as it is direct conflict with the Big Pharma Cartel. This is precisely what Valerie was discussing in her interview with Sean. She went through the basic functions of the body and how the chemicals in our environment weaken the immune system and make it the perfect breeding ground for the engineered coronavirus to take hold.  The best defense against this virus is to strengthen your immune system and she lists an arsenal of specific things to use to do this and educated the audience on what everything does so that people can understand how to best protect themselves.
Of course everything Valerie covered in this interview falls outside of the realm of the big pharma cartels,  is anti-Vax, and is effective in protecting people against the engineered pandemic that is meant to make us sick, kill us off and shut down global economy's and industry. This virus is the next phase of the globalists plan. The Wall Street Journal and the Washington Compost are part of the main stream propaganda machine that are currently working in direct conjunction with Youtube. These two publications have been going after several Youtube channels and alternative news platforms informing them that they are going to write hit pieces on them for sharing truthful information about the coronavirus. For example, in William Mounts video around the 2:23 mark, he describes how Wall Street Journal and the Washington Post are coming after his channel for talking about the coronavirus.
The agenda here is to make people fearful and to try to keep us under control. Knowledge is power in this situation and we should all arm ourselves with an arsenal of defense. At the time of publishing this post, Sean has just made the interview with Valerie public again. You can watch it here to get all the information on how to protect yourself against the coronavirus engineered pandemic that the Wall Street Journal does not want you to know about. Find Valerie and her information discussed in the interview at
https://www.holistichealthonline.info/
https://fringeenergy.com/