Hello everyone I am very happy to tell you that we have figured out how to finish the QEG. Recently we've discovered new information that we believe is the thing we've been missing and we have come up with a plan that we would like to share with all of you.
WATCH A VIDEO OF THIS ANNOUNCMENT HERE:
WE KNOW HOW TO FINISH THE QEG PUBLIC ANNOUNCEMENT from Hope Moore on Vimeo.
Just in case you are new to this project, our family has been working on developing an open sourced electric generator based on a design of Nikola Tesla. This generator is portable and more efficient than any other generator out there and is designed to help you live off the grid and also can be of great use in natural disasters and major power outages. This generator has been in development with many other teams around the world over the last few years and It was only recently that we discovered this new information on how to finish this project.
So here is our plan in a nutshell. We need to design a new circuit and test that new circuit on the mini QEG. This new circuit is the key to making the QEG work. We are running a small crowdfunding campaign to raise the $5,000 needed to finish this project. This funding will go towards designing the new circuit, and testing it on the mini-QEG first and then after testing, applying it to the big QEG design.  The plans for the mini QEG complete with this new circuit will be open sourced. The plans for the big QEG will be updated with the new circuit design also open sourced.  All QEG's that have been built will be able to finish and come online in various locations around the world.
We just did an in depth presentation explaining this circuit in technological detail and explained the circuit by showing it on a working QEG. If you are interested in this level of detail to our solution you can download the full archive package here.
Click here to get the QEG Black Box Analysis Archive
At this point in time, anyone who can understand how to build this circuit and already has a QEG could be able to apply this immediately to finish this project on their own. However, we would like to be given the opportunity to properly design the circuit, test it safely on both devices and construct the proper manual for open sourcing. We've brought it this far, we'd like to play a role in finishing it and we only need about $5,000 and a couple of months to do so.   So we are asking for any backers that can help us reach this goal. We are running our campaign a little differently this time, its a "Kickstarter All or Nothing" style campaign. We are asking for pledges in any amount, and we have some rewards in larger amounts that include a membership to our academy, CAD packages, instruction classes and the first copy of the mini QEG build manual when it is written, just to name a few. So be sure to visit our campaign and please help us spread the word by sharing it!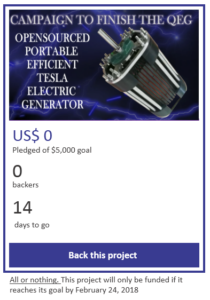 To help spread awareness about this important energy project, we have also just released a new documentary film called "Chasing Tesla". This short film tells the story about one families quest to replicate a Tesla Invention. It describes this unique form of electricity generation and how it is done and also tells the history behind this invention tracing it all the way back to its origins with Nikola Tesla.  The film is available to watch on Vimeo, Youtube and also via Instant Download from Vimeo for free.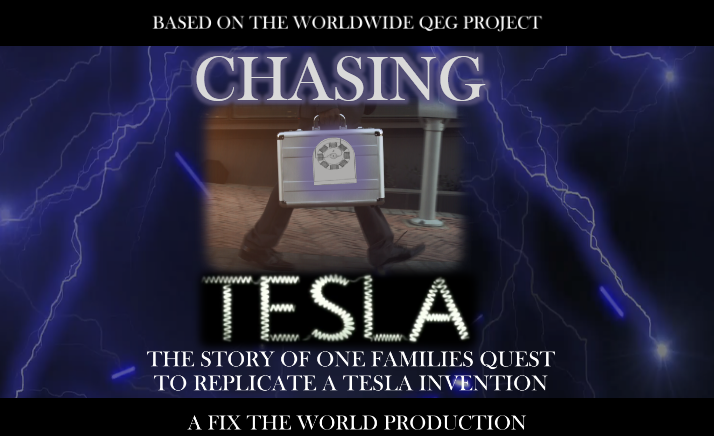 CLICK HERE TO WATCH THE MOVIE CHASING TESLA
Other than this, I encourage everyone who is interested in this project and type of work to please become an active member of our academy as we have 4 years worth of research and archive materials available there as well as bi-weekly live academy calls covering a variety of clean energy topics including updates on the QEG project as well as exciting guest speakers in the field.
And finally, our family will be doing something we are calling a "Technology Tithe". We are calling on all churches to sign up to receive a donated copy of the plans and CAD packages so that their church and community will have the ability to build this generator.   This would be especially great for church groups that are involved in missions and charity work with people in remote areas that need  access to renewable energy sources. The very heart of this project is to get power access to the people that need it the most, and we feel moved to ask the churches to help us get this out to the world. This project being open sourced, also serves as a great opportunity for small business development in local communities revolving around the production and distribution of these devices.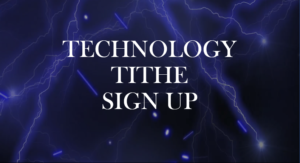 CLICK HERE TO SIGN UP YOUR CHURCH FOR THE TECHNOLOGY TITHE
So if you know someone in your church that has basic electrical and shop skills that might be interested in receiving the plans for this project, we have a sign up form just for the technology tithe and we will also be scheduling meet and greet zoom calls with church leaders and electricians so we can answer any questions  you might have.
And that's it for now everyone, please find the important links in the description below and help us spread the word by sharing!  Take care!