A troubling new study released this week has shown Australia is experiencing its highest excess mortality rates in over 80 years.
A new study released this week has shown Australia is experiencing its highest excess mortality rates in over 80 years.
According to the Actuaries Institute, there was a 12 per cent increase in excess deaths in 2022. Of the additional 20,000 deaths, 10,300 were attributed to Covid-19 — with another 2,900 deaths where the virus was a contributing factor,
The remaining 6,600 excess deaths were not related to Covid-19, with ischaemic heart disease and cancer being the most common causes, leading to 2,020 and 970 excess deaths respectively.
Karen Cutter, the spokesperson for the Institute's Covid-19 mortality working group, emphasised that the increase of 20,000 deaths is extraordinary and has not been witnessed since World War II.
After remaining stable for some time, the number of deaths began to climb, and in 2021, the nation surpassed its expected death rate by 2 per cent. In the second year of the pandemic, there were 3,000 excess deaths, with about 1,400 directly attributed to Covid-19 and 1,600 linked to it.
However, there was a significant shift in 2022 when the excess death rate surged to 12 per cent. Deaths reached their highest point in late July before declining but then began to rise again in November and December.
"It is not within normal levels of fluctuation in non-pandemic times," Ms Cutter said.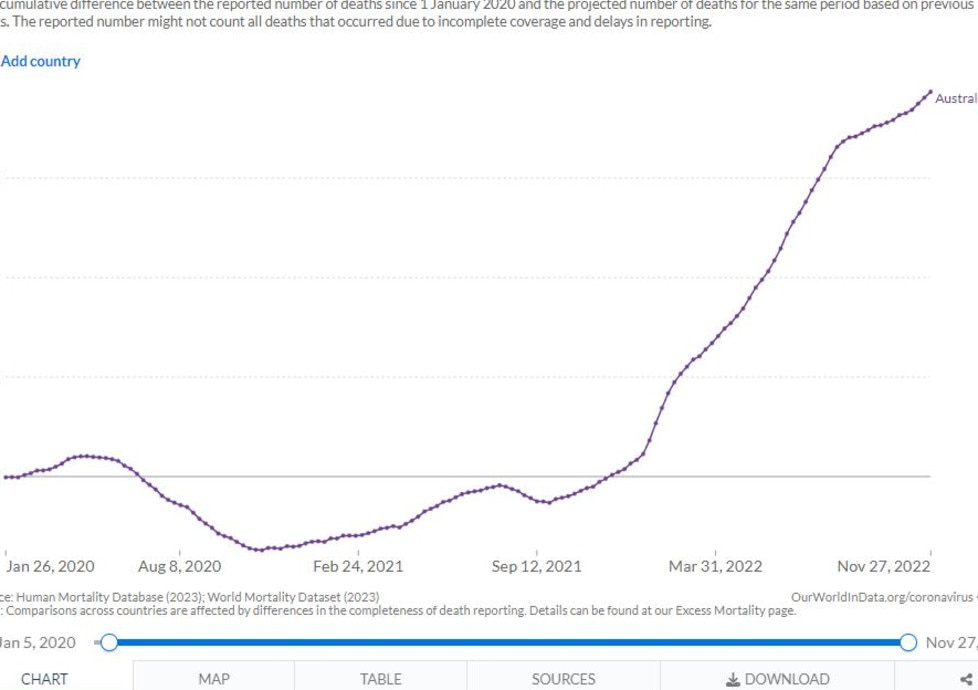 Cumulative number of deaths from all causes compared to projection based on previous years, per million people. Source: OurWorldInData
"Covid-19 accounts for about half of this excess, and we are also seeing a significant amount of excess mortality that is not recorded as due to Covid-19 on death certificates."
The excess deaths increased by 10 to 15 per cent in all states and territories, except for the Northern Territory, while the spike in Western Australia was "delayed due to the state opening its borders in March".
All age groups experienced excess deaths, with a notable rise among females under 44, but the number and rate were highest among people over 65 years of age.
Additionally, a report released in January showed a shocking 17 per cent increase in Australians dying from a heart attack, compared to a regular year.
Ms Cutter said the Institute believes that the virus still played a role in many of the excess deaths that weren't directly attributed to Covid.
"Firstly, mortality risk is higher subsequent to an acute Covid infection, and most Australians have now had Covid-19," she said.
"Secondly, people have not accessed medical care when needed, either through inability (in emergency situations) or through fear or lack of opportunity (thus missing routine care earlier in the pandemic).
"Lastly, some of these deaths could be undiagnosed Covid-19 deaths."
Cutter stated that vaccine side effects were not cited as a reason for the increased mortality rates.
However, some politicians have questioned the analysis of climbing excess deaths in Australia, with Senator Gerard Rennick claiming reports have "easily confused" the rising numbers with the prevalence of Covid-19 in the community.
"In 2021, when the smaller states had virtually no cases of Covid. Yet despite this, deaths jumped 5.4 per cent from the year before for the country," Senator Rennick said in a recent statement.
"This increase happened from May onwards one month after the start of the vaccine rollout. What's significant however is that the smaller states had a higher jump in deaths even though they had no Covid.
"The only variable to explain that was the vaccine rollout. NSW and Victoria would have been higher had it not been for the draconian lockdowns in those states.
"The argument about lockdowns delaying deaths is true but not as much as the jump in excess deaths. Deaths dropped nationally by 2,000 in 2020 but jumped by 8,706 in 2021."
South Australian Senator Alex Antic has also raised alarm over Australia's high excess mortality rate.
The Actuaries Institute says vaccine-related deaths are "negligible" in their recent report into mortality.
The Institute's Covid-19 mortality working group emphasised that the increase of 20,000 deaths is extraordinary and has not been witnessed since World War II.
"While there have been deaths in Australia caused by the administration of Covid-19 vaccines, the number of such deaths has been small," the report reads, citing that Australia has a "very good vaccine approval and safety monitoring processes, administered by the Therapeutic Goods Administration".
This follows a report from the Australian Technical Advisory Group on Immunisation in 2022, informing young Australians of the heightened risk of heart-related side effects from both Pfizer and Moderna vaccines.
The advisory group said it did not know about these issues until five months after the vaccines were approved for widespread use.
The Actuaries Institute cites a vaccine safety report (to 23 February) showing that, of the 976 reports of death following vaccination, "only 14 were found to have been caused by the administration of the vaccine".
"The TGA makes it clear that the remaining 962 were not caused by Covid-19 vaccination. That is, they were due to other, unrelated causes," the report said, further stating that it "does not fit with the timing or shape of the excess mortality".
Australia is not alone in this phenomenon, with major nations like the UK also battling an unprecedented rise in excess mortality.
The UK recorded nearly 40,000 excess deaths last year, while the Office for National Statistics reports that there have been approximately 170,000 excess deaths in England and Wales since the onset of the pandemic.
The births and deaths figures, for the year ending December 2022, show there were 38,574 deaths in 2022, 10.4 per cent (3642) more than in 2021.
This increase – attributed to Covid-19 and an ageing population – is the biggest year-on-year jump since the 55.4 per cent (5835) spike in deaths following the 1918 flu pandemic.
Source Link: https://www.news.com.au/lifestyle/health/health-problems/report-shows-australias-excess-mortality-rate-has-risen-to-levels-not-seen-since-world-war-ii/news-story/2f86a5483b9ae8363fc80082ae95ba3d
Bitchute: https://www.bitchute.com/channel/YBM3rvf5ydDM/
Telegram: https://t.me/Hopegirl587
EMF Protection Products: www.ftwproject.com
QEG Clean Energy Academy: www.cleanenergyacademy.com
Forbidden Tech Book: www.forbiddentech.website