Free Energy Mafia and the Dirty Games They Play.
Free Energy can be a dirty business, and it's time to clean out the closet! In this show we cover cold fusion, and inventors Pons and Fleishman, Bruce De Palma, and Stanley Meyer.  Inventions covered are the N Machine and the E-Cat.
We'll also discuss the free energy mafia and archetypes, JTRIG Internet Trolling, Top Free Energy Sites, Eugene Mallove, Steven E. Jones,  Bearden, Edgar Mitchell, Stephen Greer, Sterling Allan, Mark Dansie and free energy related deaths.
To be covered in our "Dirty Games" Episode of the Peoples Free Energy Show. Airs Live at 9PM GMT /
View Archive Here: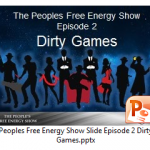 Link to Power Point Presentation for the show:
http://www.hopegirlblog.com/wp-content/uploads/2016/02/Peoples-Free-Energy-Show-Slide-Episode-2-Dirty-Games.pptx 
List of Content Included in Slide: (In order)
Free Energy Mafia
Vocabulary: Cold Fusion
Pons & Fleishmann and Cold Fusion
Steve Jones & Cold Fusion
Cold Fusion Summary
Bruce De Palma's N- Machine
Death of Bruce De Palma
Dr. Eugene Mallove
Stan Meyers Cel
Andrea Rossi E-Cat
E-Cat Cold Fusion & LENR
Deaths Related to Free Energy
Stan Meyers Death
How do we get Access to Free Energy Devices
Dr.Steven Greer and the $100K  STAR Challenge
JTRIG
Internet Trolling
Confessions of a Paid Shill
Free Energy Archetypes
Slides from Show: