Free Audiobook Free Energy Full Disclosure QEG Chronicles: 4,000 Downloads!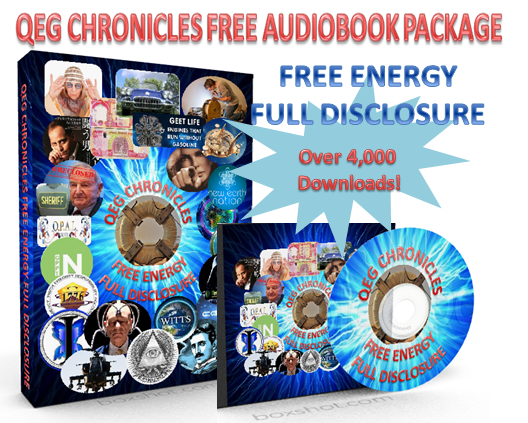 The QEG Chronicles is the wild, bizarre and entertaining tale of a family that builds a free energy device, then gives the plans away on the internet and travels around the world helping others to build their own electricity generators.  This autobiographical story, told from the perspective of "HopeGirl", brings us through the hidden alleys of the big energy tycoons, the internet trolling cyber sphere, crop circles, alien agenda's, new age gurus, sexual honey pot escapades, and  so much more.
Over 4,000 people have downloaded and read this book. It is available in pdf format with lots of pictures, and a very popular audiobook narrated by HopeGirl that is filled with sound effects for a truly entertaining experience.  Many people read the whole book in one night and we've gotten great reviews. It's funny, it's heartwarming, it's shocking, it's fascinating and it's based on a true story.
To mark the one year anniversary since the books release, we are relaunching the QEG Chronicles through a new promotional campaign. The PDF and Audiobook download is free when you enter your email in the form below.  Below is a summary of each of the chapters:
Chapter 1: QEG Origins
In this chapter we learn about the beginnings of this project. The struggles of our modern world have left many people looking for alternatives to survival. One family decides to build a device that can run the power in your home without the need for fossil fuels. The intention is to give away the plans for free on the internet.
Chapter 2: WITTS and the Millionaires of Yelm
The chapter opens up in Chefchaouen Morocco, as Hope writes a letter to a friend recalling how the idea of the free energy generator came to be through the meeting of some "Black OP" engineers. WITTS is a group of builders that have been working on free energy devices for quite some time. Hope tells how she meets them and learns about their free energy devices while staying with a wealthy friend in Yelm, Washington State USA.
While in Yelm, Hope is surrounded by members from a culty new age community called the Ramtha school of enlightenment . Here we learn about some of the strange new age beliefs practiced by billionaires and a galactic historian who claimed to have access to Akashic records of billions of worlds.

Chapter 3: Free Energy Initiation and Hazing
This chapter takes place in Australia, where Hope is touring to meet people of like minds for community projects. It was on this tour that the first crowdfunding campaign for the QEG free energy generator device was launched. As soon as money started rolling in, the family gets the attention of all the energy industry gatekeeper and internet trolls. From the very beginning we learn about one infamous troll and revolution green free energy skeptic named Mark Dansie, along with others like Peswiki's Sterling Allan and Overunity.com's Tinsel Koala. These folks along with many others would do all they could to drag the family through the mud.
Chapter 4: Opal Tour and GEET Technology
This Chapter brings us to Tehachapi California where Hope meets up with a bunch of blogger friends to see a live demonstration of an engine that runs without the need for fuel known as GEET technology. The group of bloggers is on a cross country trip called the OPAL tour and the GEET demonstration is the kickoff event. Later on Hope would learn that OPAL tour bloggers had stolen the GEET technology  from its inventor Paul Pantone, who called the local Sheriff on their operation. The Tehachapi party turned into a drug raid and the free energy theft was halted while new age bloggers flushed their stashes down the toilet.   This book was released just one week after the passing of GEET inventor Paul Pantone and it is dedicated to the amazing life's work of an incredible man.
Chapter 5: Funding Blackmail and Gurus
This chapter tells of the debacle that occurs when you try to get truthers, freeman movement activists, hippies and new age gurus to work together to raise money.  In this chapter we meet an Australian anti-government documentary film maker, a Hollywood film producer and new age channeling guruess, and an overly confident and kocky webmaster… just to name a few. Mixed in is the Iraqi Dinar RV scam, alien channeled instructions, cult kidnapping, sabotage, blackmail and wedding bells.
Chapter 6: The Long Winters Build
This chapter reflects the struggles of so many families living in America trying to cling onto the American dream.  America, the land that was home to so much innovation and so many inventors in its prime. In the longest winter in recorded history, Hope and her family finish building the first prototype of the free energy generator in a Pennsylvania barn.  The spirit of Nikola Tesla and a heartwarming antique feel penetrate this chapter as you get to know some of the intimacies of this little engineering family.
Chapter 7: Open Source Explosion
For the longest time engineers have been asking for someone to give away technology without patents or ownership. When this family actually did this, the response was explosive, and amazing. Hope tells the  account of what it felt like to push the publish button on a document that would later get over a quarter of a million downloads.
Chapter 8: Free Energy Dragons and Taiwan
This chapter brings the family to Taiwan, where they were hosted to build a free energy device by a group of enthusiasts in a private factory. While there Hope met with a popular blogger named Cobra and also spoke with another blogger named Benjamin Fulford.
Chapter 9: The Conference in London
Hope travels to London alone to be a key note speaker at a new age conference.  The conference organizer is one of the worst out there. He tries to suppress her information and cuts her presentation short in front of a sold out audience and has many people standing up and booing at him because they came to hear about the new free energy device that had just been open sourced.  This is when Hope meets and spends time with Sacha Stone of the New Earth Nation project, who was kind enough to give her a second chance at giving her presentation to an audience at his event.
Chapter  10: The OPPT
The OPPT, or One Peoples Pubic Trust is a group of bloggers in the "truth movement" that believed that they had foreclosed on all the governments of the world through common law practices and legal filings.  In 2013 there were thousands of people following and promoting this group online.  The group later blew up in a messy frenzy in 2014. Hope was friendly with some of the bloggers who were part of the OPPT at one point in time. In this Chapter, Hope explains the OPPT group and its beliefs from beginning to end.
Chapter  11: The Build in Morocco
The family invited anyone who wanted to come to attend a public build in Morocco. Eighty people from 24 different countries all converged in Morocco for the build. It was an amazing and uplifting experience to see so many excited people gather in one place. The family learns what it is like to try to build a free energy device in a developing country.
Chapter 12: The UK Build
Perhaps one of the most insane stories in the book, this chapter takes place on a farm in one of the richest and nicest areas of England known as Alfriston in East Sussex. Here the family is brought into a world of quirky English Illuminati weirdness, MK Ultra style mind control tactics and brain scanning equipment, billionaires in helicopters, Dutch magicians, and sex scandals.
Chapter 13: QEG Crop Circles
During the QEG build in England, we took a day off to do a group meditation and ask for a crop circle to form that represented the design. What occurred was amazing, the next day we ended up in a crop circle that looked just like the QEG where we met a film crew in the middle of the field.
Chapter 14: The Demise of the OPPT
Hope returns to Morocco, this time to move there permanently. When she gets there, she finds the people from the OPPT living in filth and destitute conditions. Hope tells the story of how she helped get them all out of there, allowed them all to move into her new family home to get back on their feet, only to have them use up her hospitality, take all of her resources, and then attack her and her family in a cult shunning.  What's revealed is the cult's behavior of drug trafficking, prostitution, and theft. This chapter marks a real turning point in the story. It's where many people hit rock bottom, and it explains all the messy fights and break ups that happened.
Chapter 15: Free Energy Love Story
Hope brings the audience to sit on a Moroccan Mediterranean beach while she tells the love story of how she met the love of her life, an engineer named Tivon.  They had met through the project as Tivon was following the project online. Later meeting in person at a build, sparks began to fly… pun intended.
Chapter 16: Phoenix Rising
This chapter tells about the complete change of fate experienced by the family and ends the story on a high note.  Having learned the hard lessons, the family starts to apply new skills to online teaching and begins to build their own independent business, which is alive and thriving today.
What people are saying about this book:
"Truly this is disclosure. I cried many times. That Hope and her family survived and thrived, is awe inspiring! I am listening for the second time as I write this."
"Absolutely stunning! An amazing book… A great look at the people surrounding the awakened/new age/paradigm world. If you watched the weird meltdowns of some of the 2012 gurus.. You might find this painfully true. If you like woo woo and science fiction, give it a listen as fiction. Like drama, intrigue? Romance? Give it a listen. Want to know the truth? Listen."
"I read your book on my way back on a long haul flight. Believe me, I felt for you and tears were running! Unbelievable personality. I wish you the best for the free energy you are bringing out."
"I think Hope's done a fantastic Job of bringing a fair and balanced account from her perspective without levying any kind of hatred or revenge.  I think it's a fantastic book and she's done a very good job of disclosing something that's very difficult. Also in putting across some of the more subtler nuances that people miss out on, and perhaps never even pick up on unless they've actually experienced it for themselves.  This is probably one of the best books I've read (or heard) this year.  Please do yourselves a favor and please go and listen to Hopes book. She has made it freely available to everybody. This information is so essential for everyone to understand what really goes into these kind of projects, and what goes on behind the scenes."